Reviews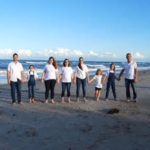 The Montgomery Family
We have absolutely loved living in Plantation Oaks. Prior to moving we made a trip to visit the area and look at properties, the moment we drove up to the entrance, we knew this was the neighborhood for us! We moved in June of 2017 and started to make Plantation Oaks our home. We immediately met neighbors from next door, across the street and even from other parts of the community. Everyone was friendly and welcoming. Neighbors even brought food as we unloaded the truck and began to get set up in our new home. It was also a great surprise to receive a welcome basket from the HOA welcoming committee. Since then we have gotten to know our neighbors even more and have made great friendships throughout the neighborhood. We absolutely love the way the neighborhood is well maintained and managed. The kids enjoy the pool and the ability to walk the dog and ride bikes in such a wonderful neighborhood. We are so excited to be here and look forward to many years in our wonderful new home!!
The Montgomery Family

The Jones Family
I had no idea what community truly was until I experienced it myself. I wasn't into deed restricted or gated communities until I moved into this one. We had 3 days to move and a choice between 2 houses. The moment I stepped into the one in plantation oaks it was the one for my family. They took us through a process and we had to have our backgrounds checked. That made me feel safe and I saw how that potentially protects my children. The neighborhood came together to make meals for 10 days straight that is right!?!? 10 days straight when I had surgery. Without question people jumped into help me. Even if it was as little as vacuuming my home! What a blessing! I met people who were willing to put themselves second to help even me when I needed to move a China cabinet and table. I love the Club House and how they do Easter Bunny Breakfasts for our children and Santa on Christmas. They even do rock painting and all other types of projects to bring people together. Our neighborhood is always clean and never left unattended. I love the Hello's when I am driving or walking in the neighborhood and you can tell they are heartfelt and sincere. I am a neighbor in Plantation Oaks and I am changed because of it.
The Jones Family is forever thankful.
Show More
Show Less